While the importance of a clean floor often goes unnoticed, the impact of a dirty floor is hard to ignore. At Loughton Direct, we understand that flooring plays a crucial role in making a positive first impression
Proper maintenance is essential for preserving the appearance and functionality of your office floors. At Loughton Direct, we are experts in office floor maintenance, offering comprehensive services for various types of flooring. Our expertise covers:
carpet flooring
vinyl flooring
stone flooring
marble flooring
travertine flooring
terrazzo flooring
limestone flooring
porcelain or ceramics flooring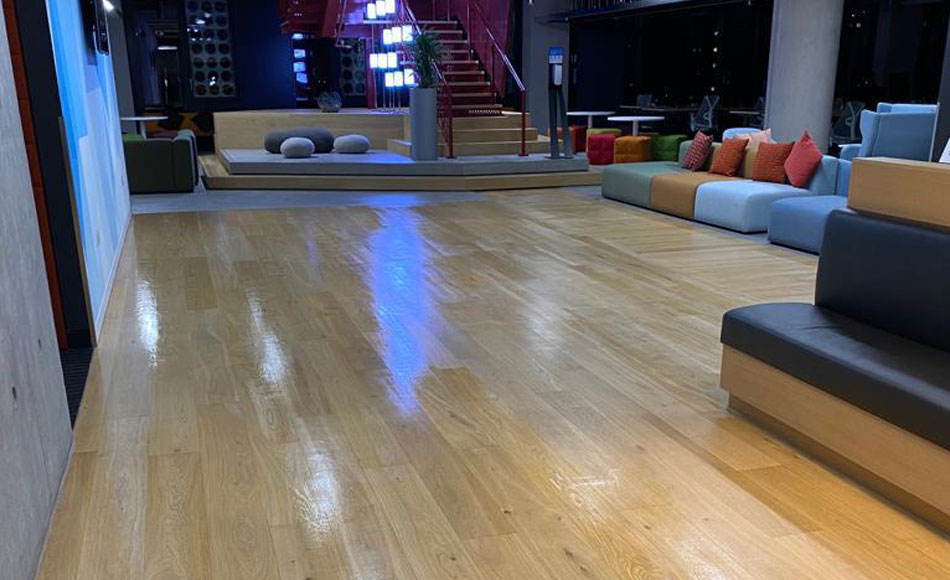 Our approach to
Office Floor Maintenance

Regular maintenance is vital for the protection and enhancement of your wooden floors. Not only does it contribute to the overall look and feel of a site, but it also plays a significant role in ensuring safety by reducing the risk of slips, trips, and falls.
Our team of expert technicians is dedicated to delivering exceptional results, no matter the size or type of the area to be cleaned. We take pride in our meticulous approach and ensure that our customers are delighted with the impeccable finish we provide. 

Moreover, we understand the importance of convenience, and all cleaning is scheduled at a time that is most convenient for our clients, minimising any disruption to their operations.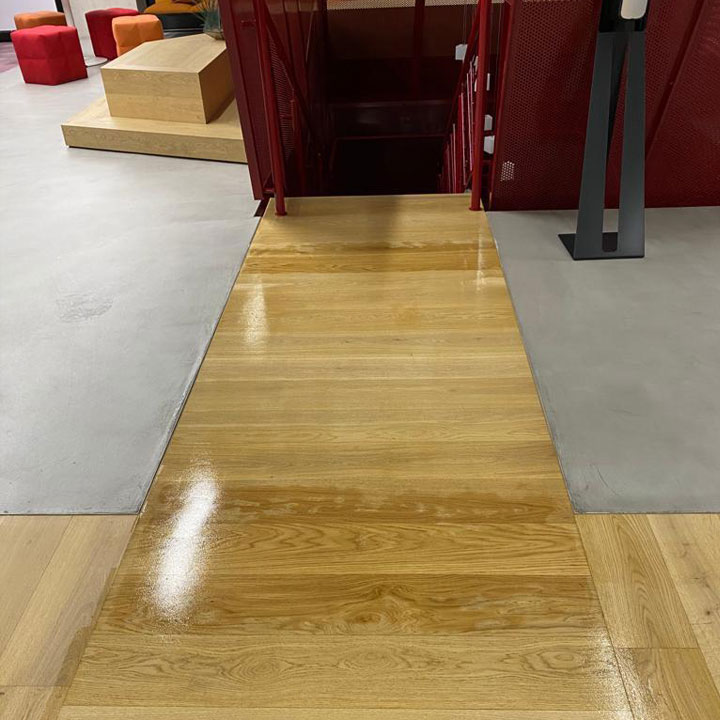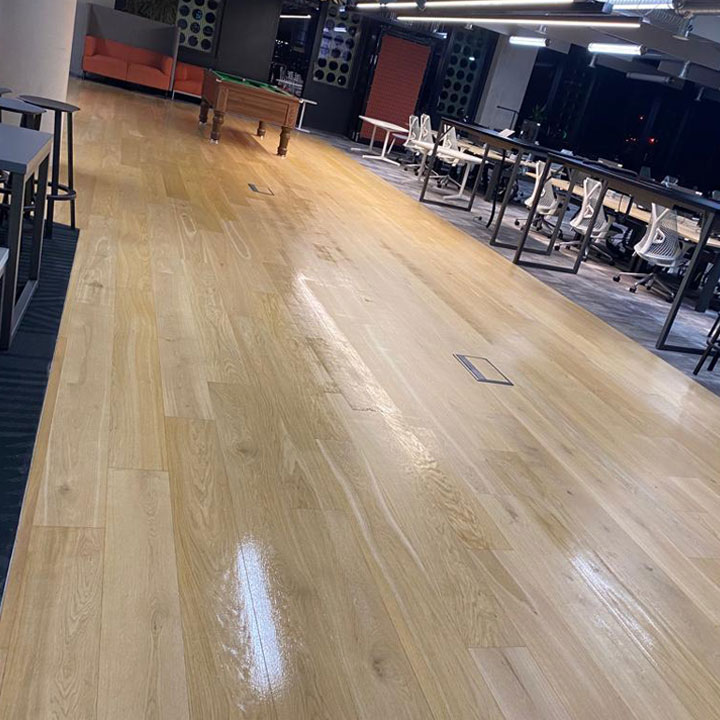 Importance Of A Maintenance Program
Our office floor maintenance portal
Implementing a proper office floor maintenance program is not only crucial for maintaining a clean and professional site image but also for prolonging the life expectancy of your floors. By following a systematic maintenance routine, you can significantly reduce capital outlay as floors will last longer and require fewer replacements. This approach also aligns with our commitment to environmental sustainability
As part of our comprehensive service, we provide all our customers with access to an intuitive online aftercare portal. This convenient tool serves as a valuable resource for effectively preserving and maintaining your floors.
Within our aftercare portal, you'll find a range of features designed to support the longevity of your flooring investment. From guidance on proper maintenance practices to offering replacements for damaged flooring, our commercial floor maintenance service ensures that your floors remain in optimal condition for years to come.
By utilising the tools and services available through our aftercare portal, you can effectively extend the lifespan of your flooring and maintain a clean environment. This proactive approach minimises the accumulation of dirt, dust, and pet hair, which can potentially damage the floor's finish over time. Trust our dedicated commercial floor maintenance team to safeguard your floors and keep them in pristine condition, ensuring a welcoming and professional atmosphere within your office space
Offering the very best
Maintenance and sanding wooden flooring

Maintaining the look and longevity of your wooden floors requires regular cleaning and care. However, even with consistent mop and bucket cleans, wooden floors can eventually show signs of wear and tear.
At our London-based flooring company, we specialise in sanding wooden flooring to restore its natural finish, stain, and shine. With over a decade of experience in wood floor sanding and restoration services, we have earned a reputation as a trusted provider in the industry. Our skilled team has transformed numerous businesses, delivering exceptional durability and uncompromising quality.
Using state-of-the-art sanding equipment, our London floor sanding specialists ensure efficient dust capture during the process. Additionally, we offer floor repair services to address any damage caused by moisture or regular usage. This may involve re-fitting or replacing cracked or loose boards and parquet blocks, ensuring a seamless and sturdy result.
Combining modern techniques with traditional craftsmanship, we strive to achieve uniform, smooth, and authentic finishes for our clients in London. Our commitment to excellence guarantees that your wooden floors will regain their former glory and withstand the test of time.
By entrusting us with your floor sanding and maintenance needs, you can be confident in receiving outstanding results and preserving the elegance of your office space. Let our team bring out the true beauty of your wooden flooring through our expert sanding and restoration services.